Badami Cave Temple
Centuries old, Badami Temples are amongst the well-preserved spectacular ancient sites in India. Enfolded in its walls and pillars are the stories of the many rulers of the Chalukya Dynasty and other legends. Located in Karnataka, Badami temples are also known as Badami cave Temples as the temple is in the pattern of caves inside caves. Each of the temples has a veranda, a sanctum, hall and many pillars. First cave has a shrine of Lord Shiva while the second and the third cave have a shrine of Lord Vishnu. The fourth and the innermost cave is a Jain temple.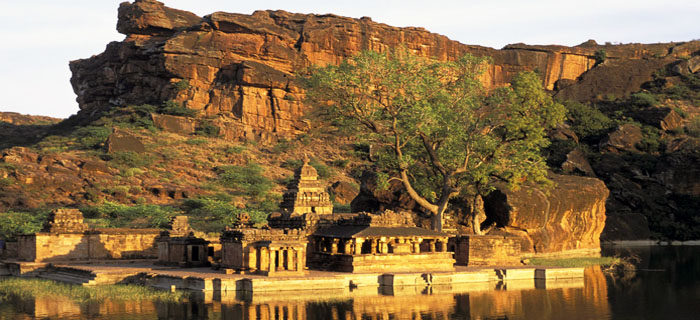 An architectural masterpiece, the designing of these temples by the sculptors, the various sculptures in these temples and the sculpture of The dancing Natarja have been done with minute precision. Numbered in numerical order, the shrine of Shiva has been depicted with Sculpture of Shiva in 18 different positions. Temple of Vishnu has been depicted with various incarnations of Lord Vishnu which also showcases in its carvings on the ceilings of the caves the deities; Shiva, Vishnu, Brahma and the eight disciples in different directions. Statue of Tirthankaras in variety of postures graces the Jain temple in the fourth cave. Here, Mahavira, the 24th Jain Trithankara has been carved in sitting posture.

Ancient murals and paintings dedicated to various Gods have been drawn on the walls of these caves. Preserved till date, these paintings have survived different conditions with the passage of time and have mesmerized its spectators. Remarkablle architecture and great work with many attractive sculptures and carvings, travellers can go to many sightseeing places around the Badami cave temples. Dating back to 600AD, these cave temples are renowned all over the world for their outstanding splendour.


Landmarks
• Crawling on all the fours will be needed to reach the Buddhist temple inside this cave.
• Facing the lake is a 5th century temple of Bhutanatha.
• Majestically towering is the Badami Fort on top of the hill.
• Malegitti Shivalaya of 7th century is based here with many other Shivalayas.
• Temple of Dattatreya.
• Built on a star shaped plan is the 11th century Mallikarjuna temple.
• On the southern side of the fort is a Dargah an Islamic place of worship.
• To view the ancient town is a vista point on the northern part of the fort.
• Located near is the temple of Banashankari, a popular family deity (Kuladevata) of the families residing in the area.
• Nearest Airport: Belgaum, 190 Km.
• Nearest Railway station: Hubli, 100 Km.


How to Reach
View Larger Map
"All you need to do is relax, enjoy and experience the Incredible India."