Hampi Tour India
Listed by UNESCO as a world heritage site, Hampi is a mesmerizing village located in the northern part of Karnataka, India. Hampi in the 14th century was the capital of the Vijayanagar Kingdom. A picturesque site Hampi is surrounded by ruins, large stone platforms and green hills. Many statues of Hindu deities dating back to many centuries are present in this ancient village. If tales about this place are to be believed, it is said rubies were sold on the roads during the ancient time. The century old ruins and traces of the bygone era can be experienced through a visit to this architectural splendour that showcases the artistic creativity of the than local artisans and sculptors. Spread over an area of 26 sq. km, tourist on Hampi tour can marvel in the ruins of the forts, carved pillars, monolithic statues, audience halls, baths and much more.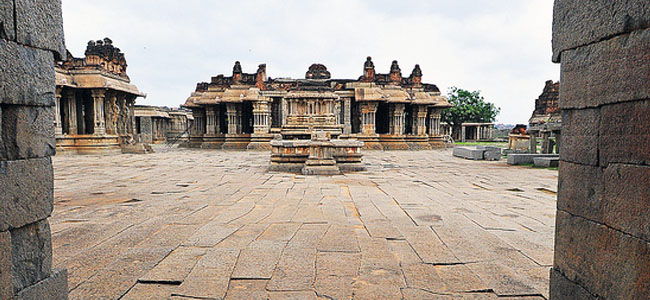 Entrance to Hampi starts by passing heavy and giant gates which open in an expansive courtyard that leads to places with carved statues, pillars and other sanctums. Tungabhadra adds to its prevailing attractiveness. With a history of over hundreds years, there are many enthralling places to visit in Hampi. Some of the places to visit while on Hampi tour are Achyutaraya temple, Sugreeva Cave, Vitthala temple with musical pillars, Madhavan Palace, Stone Chariot, Hazara Rama temple, the Royal Enclosure, Matanga Hill, Statue of Ugra Narasimha and Chandramouleshwara temple. Hampi also organizes 'Hampi Utsav' during the first week of November every year. The entire area is lit in the night and cultural programme of dance and music are organized.


"All you need to do is relax, enjoy and experience the Incredible India."
How to Reach
View Larger Map