Chambal Sanctuary Tour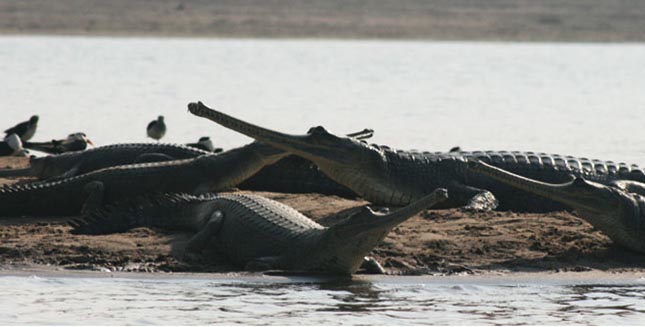 • Largest population of Gharials;(scientific name- Gavialis gangeticus) are found only at National Chambal Sanctuary.
• The National Chambal Sanctuary was established in the year 1979.
• It was established as a riverine Sanctuary.
• National Chambal Sanctuary is the zone where the crocodilian species Gaharial are re-introduced.
• Platanista gangatic - Gangatic Dolphins (National Aquatic Animal of India) are also found in this area.
• Out of 26 turtle specie found in the country, Chambal alone supports 8 rare species of turtles.
• Chambal River is counted amongst the cleanliest river in the county.
• More than 320 resident and migrant birds are found in National Chambal Sanctuary.
• National Chambal Sanctuary is the only place where the nesting of Indian Skimmers has been recorded in large numbers.
• The maintenance of the sanctuary is looked after by the wildlife wing of the Uttar Pradesh Forest Department. Headquarter of the department is situated in Agra.

"All you need to do is relax, enjoy and experience the Incredible India."